More info
LingvoSoft PhraseBook 2019 English <-> Hebrew for MS Smartphone
LingvoSoft PhraseBook turns your MS SmartPhone enabled handset into an incredibly convenient handheld translator. Featuring over 14,000 travel-related phases divided into 15 topic areas, this remarkable application replaces old-fashioned paper phrasebooks saving you time, space and effort during your travels. Able to deliver instant bi-directional translations between English and Hebrew it covers such topics as checking into a hotel, visiting the bank or post office, shopping, sightseeing and so much more.
Price: AUD44.95



More info
Special Offer!
This week only! Get two LingvoSoft software products for the price of one! LingvoSoft FlashCards yours free!
LingvoSoft Talking Dictionary English <-> Hebrew for Palm OS
This clever dictionary translates both ways plus it yields English speech synthesis. Once installed on your device it will allow your Palm to speak English word and phrases - not limited to dictionary entries!
Price: AUD64.95



More info
LingvoSoft Dictionary Russian <-> Hebrew for Palm OS
This unique electronic dictionary application provides immediate bidirectional translations between Russian and Hebrew. Its powerful search functions such as Quick Search, Vector Ultima spell-checker and our signature MorphoFinder function to help you find the words you want in a matter of seconds. A user-friendly keyboard facilitates easier typing, and the high resolution support makes for superior readability. Efficient and effective, this useful dictionary will greatly enhance the functionality of your Palm handheld to improve your command of a second language!
Price: AUD44.95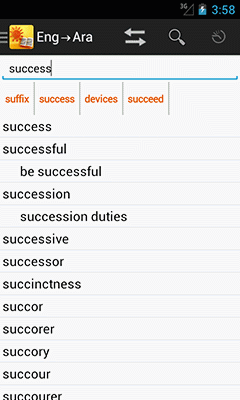 More info
Ectaco Middle Eastern Dictionary Pack for Android

Ectaco Middle Eastern Dictionary Pack for Android

Ectaco Middle Eastern Pack for Android Contains: An exquisite collection of extensive vocabularies for English <-> Arabic, Farsi, Hebrew, Turkish; French <-> Arabic and Russian <-> Hebrew; a choice of 7 display languages; advanced TTS (text-to-speech) for English, German, Greek, Spanish, French, Italian, Hebrew, Japanese, Dutch, Polish, Portuguese, Russian and also Real Voice capabilities. It's a user-friendly translation tool that includes up to 1,000,000+ words depending on the language.

Price: AUD59.95