More info
ECTACO Partner Dictionary English -> Thai for Palm OS
Are you a Palm owner who often needs translations from English to Thai and vice versa? Get your Palm fitted with translation gear, which will make your old friend serve a new purpose! With this application you Palm will know how to translate 400,000 words and phrases, provide instant back translation, switch between languages quickly, and help you to on-the-fly find the word you need while you are still typing it into the Input Line. You have to experience our software, and enjoy the SD/MMC support it offers!
Price: AUD54.95



More info
LingvoSoft Dictionary English <-> Thai for Palm OS
This clever dictionary translates both ways (the Thai->English direction is the newest addition) and provides immediate back translations, too. Searching is made easy with Quick Search, Vector Ultima spell-checker and our signature MorphoFinder functions. Each dictionary entry is complete with part of speech information and multiple translations for all polysemantic words.
Price: AUD44.95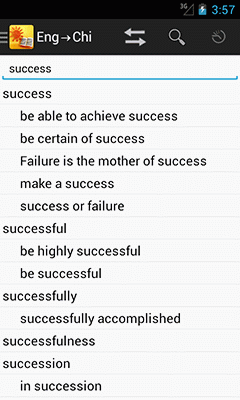 More info
Ectaco East Asian Dictionary Pack for Android

Ectaco East Asian Dictionary Pack for Android

Ectaco East Asian Pack for Android Contains: An exquisite collection of extensive vocabularies for English <-> Chinese, Hindi, Indonesian, Japanese, Korean, Tagalog (Filipino), Thai, Vietnamese; a choice of 7 display languages; advanced TTS (text-to-speech) for English, German, Greek, Spanish, French, Italian, Hebrew, Japanese, Dutch, Polish, Portuguese, Russian and also Real Voice capabilities. It's a user-friendly translation tool that includes up to 1,000,000+ words depending on the language.

Price: AUD79.95