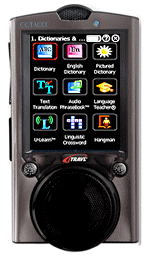 More info

Accessories
ECTACO iTRAVL NTL-19WLD Talking 2-way Multilingual Language Communicator and Electronic Dictionary

ECTACO iTRAVL NTL-19WLD Talking 2-way Multilingual Language Communicator and Electronic Dictionary
Simply put, our absolutely unique iTRAVL is the most remarkable multilingual travel and communication handheld in the world. Full to bursting with everything you could ever need when visiting a foreign destination, it is second to none when it comes to helping you get your message across quickly and easily. Now say goodbye in the language of your choice to misunderstanding forever, and always get what you want the first time. There's almost nothing you won't be able to accomplish with the iTRAVL by your side! Using an astounding combination of the most advanced speech recognition for 18 languages and high-definition recordings of authentic native speakers, iTRAVL understands exactly what you say and offers a crystal-clear reproduction of the same words and phrases in whichever foreign language you choose. That means that by simply speaking into the device you and your listeners will be provided with a real-time, completely intelligible response that anyone can understand. It's really nothing short of miraculous! Your very own personal interpreter that is ready to help you day or night, iTRAVL will let you succeed in business meetings, enjoy sightseeing more, meet new friends and deal with emergencies and with less bother and expense than ever before.
Price: AUD929.95


More info
Franklin Holy Bible KJV-570

Franklin Holy Bible King James Version

Spend more time in contemplation and less time searching for your favorite passage!
Access the Old and New Testaments anytime, anywhere!
Daily Devotional Verses provide instant inspiration
Index of book, chapter, chapter title and verse
Search and retrieve options by book, chapter, verse or keywords
Features automatic spell-checking function and bookmarks
Local/world clock, calculator and 100-entry databank built in for convenience
3-line display
Price: AUD169.95