This model is available in different colors: Candy Red, Caribbean Blue, Brazilian Green. Find your favorite here:
Engrave your Partner for only AUD 19.95!
| | |
| --- | --- |
| Category: | Talking bilingual dictionary expandable to include over 50 language combinations |
| Language pair: | English <-> Japanese; Japanese <-> English |
| Speech: | English and Japanese for the Dictionary; English and Japanese for the PhraseBook |
| Number of words: | 455,000 |
| Battery Type: | Li-Polymer rechargeable battery (3.7V, 1700mAh), included |
Unsurpassed Translation
With a massive 455,000 entry English <-> Japanese Translating Dictionary, an easy to use 39 language translating Picture Dictionary and a complete English explanatory dictionary and Full Text Translation, the remarkable new EJ900 Grand contains everything you need for superior translation and accurate communication. Exclusive User Dictionaries allow you to store your own personalized lists of frequently used words and a history function remembers your most recent translations to provide instant access to the information you need to understand and be understood.
Scan and Read Translation
Using the included Ectaco/C-pen Handheld Scanner you can grab any text wherever you find it. Simply scan the text you want from any paper surface - a book, newspaper, doctor's prescriptions or a poster on the wall and you will see the scanned text on the screen. You will then be able to upload it to ECTACO translator in order to get an instant translation of individual words. In addition, with the help of the included mini-USB to USB adapter and ECTACO software (sold separately) you can use the Ectaco/C-Pen to import image data to your desktop or laptop PC as well.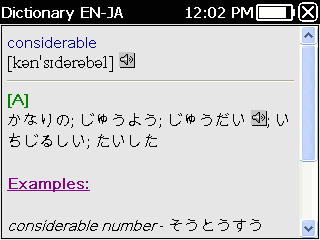 Advanced Speech Capabilities
Delivering flawless voiced output of all the words in its enormous database with True Voice human pronunciation, the EJ900 Grand offers a unique chance to improve your pronunciation by hearing how a native speaker says a word or phrase. A pre-recorded word list provides access to the dictionary's spoken entries. The world's most advanced English and Japanese Speech Recognition modules let you speak into the device in your own language and get an instant, hands-free translation that can be spoken out loud in the target language.
Dependable Audio PhraseBook
A fully functional talking, translating Audio PhraseBook provides you with all the words and phrases you need to communicate in almost any situation. Divided into 15 easy to navigate topic areas, it includes 14,000 phrases so that there's nothing you won't be able to say. Simply select a category, press the 'Say' button and the translator speaks the phrase fluently in the language of your choice.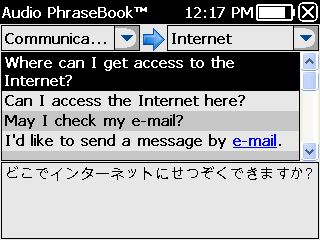 Successful Language Study
The ECTACO Partner EJ900 Grand - English <-> Japanese Talking Electronic Dictionary and Audio PhraseBook with Handheld Scanner is the world's only English <-> Japanese translator with English menus and manuals to allow anyone to learn English or Japanese. With the patented Language Teacher system that comes pre-loaded on the EJ900 Grand you are well on your way to complete control of a new language within minutes. One of the most effective methods ever designed for language study, it employs the advanced True Voice and Speech Recognition modules and step-by-step lessons to guide you comfortably from beginner to advanced speaker. With a full set of enjoyable games and exams, you improve your language skills naturally and intuitively. In addition, with the unique Word-of-the-day utility, a Memorize splash screen appears when starting an application to show you a useful word or phrase, a translation and a corresponding picture. It's an excellent way to improve your vocabulary and master a foreign language!
Study languages while driving
The inclusion of the unique U-Learn™ Car Tutor lets you study hands-free and eyes-free to make use of every spare moment to improve your language skills. This unique application allows learning the language while you are in a car which is a great way to beat the time crunch. The Mobile Infotainment system will help you enlarge your vocabulary quickly and effectively. All you need is to launch the application following the announced instructions and you will be able to memorize new words and phrases in no time at all.
Loaded With Extras
The EJ900 Grand offers the most sought-after extras to make every trip you take more enjoyable. The included jetBook Reader lets you read and translate your favorite e-Books. A built-in voice recorder lets you record conversations and audio notes and a robust audio player lets you listen to your favorite media files and AudioBooks. An additional World Time clock, Metric Conversion, and a Calculator will keep you organized while saving you time and money.
Complete Support
Easy to navigate and astonishingly responsive, the customizable and intuitive Windows CE powered interface offers instant access to the information you need quickly, easily and dependably. A Smart Virtual Keyboard with Audio interface and layout for both languages complete the built-in support that makes the EJ900 Grand different from all the rest. EJ900 includes two English-Japanese databases: English <-> Kana and English <-> Kanji. EJ900 includes two English-Japanese databases: English <-> Kana and English <-> Kanji.More...
Features:
Large 3.5" color LCD screen
455,000 entry English <-> Japanese bilingual translating Dictionary
Ectaco/C-Pen handheld scanner for instant translation of text from any surface
70,000 English explanations with the WordNet Princeton English Dictionary
Unique User's Dictionary lets you create personalized word lists
Advanced English and Japanese Speech Recognition
True Voice human pronunciation of all English words and phrases
Pre-recorded words list provides access to spoken dictionary entries
Talking 39 language Picture Dictionary with pronunciation for all words
14,000 entry Audio PhraseBook for commonly encountered situations
Patented Language Teacher system
Unbeatable Word-of-the-day vocabulary builder
Full Text Translation functionality
Spell-Check, History and Slang Lock options
Smart Virtual Keyboard with Audio interface
Vector Ultima™ spell-checker and English Morphofinder™ to help find the words you need
Customizable interface
English Grammar, Irregular Verbs, Idioms, and SAT 200/5000 vocabulary builders
Linguistic Crossword, Pockets, Spell-It-Right, FlashCards, Hangman games and a Translation Test
Customizable translating jetBook Reader with FB2 and TXT file support
Video Player with .avi, .wma, .wav, .ogg, .jpg, and .png. support; Voice Recorder
SDHC card support of up to 32GB
Plus much more…
All Grand 900 models include C-pen, GPSR, 4GB language card with US & Canada map GPS, Car holder, Car power adapter, Dual USB cable for C-pen, Headphones with mic, Adapter and Rechargeable battery.
ECTACO GPS package! Order now for only $ and get to your destination easily!
This model is normally operated in a silent mode and you will need to press the "Speaker" button or to choose the corresponding option from the menu in order to hear the translation spoken out loud.