Ectaco, Inc., the world leader in portable language learning and translation technology is happy to present a brand new tool for scanning and translating - the LingvoSoft Talking Text Translator for Windows bundled up with a MagicScan scanner. This amazing new solution allows scanning entire texts and translating them both ways. Simply swipe this Ectaco MagicScan over a line of text and have it translated on your PC immediately.
LingvoSoft Talking Text Translator Features:
The latest vocabulary base which includes technical, medical, legal and other specialized terms
Customizable font style and size
Multilingual interface with a choice of English, French, German, Spanish or Russian languages
Automated cut and paste translation
Tools panel in every window
Automatic highlighting of untranslatable or unrecognized words
Saves original text and translations in separate files
Ectaco Magic Scan Scanner Ė Your Personal Graphic Communicator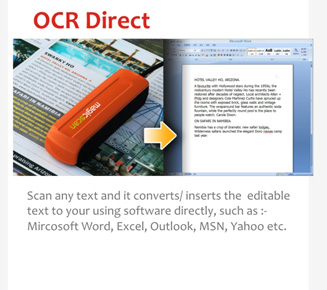 Pick up text and pictures almost anywhere and have them uploaded directly to your computer, itís that easy! This portable scanner is a perfect tool for anyone looking to convert print to digital. Itís quick, hassle free, and fits right into your pocket.
SCAN JUST ABOUT ANYTHING IN A MATTER OF SECONDS!
Main Features:
300dpi Magic Scan Scanner
Quick and efficient scanning
Easy to use functions
Lightweight and portable, carry it with you anywhere
New style mini Scanner
Over 27 languages supported
Insert scanned photos to your PC automatically
Communication direct, Picture direct, OCR direct modes
Scan pictures and insert them directly into MS, Yahoo, Skype and QQ on your computer
You can share your every moment and ideas with friends using pictures and drawings
Ectaco Magic Scan models are currently available at special promotional prices.
Order any model listed below for only $119.95!